DiNapoli Family Celebrated Grand Opening of The Somers Pointe and the New Somers National Golf Club With Ribbon Cutting Ceremony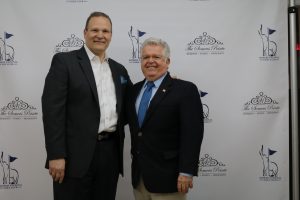 Somers, NY April 9, 2019: The Local Business Community, Press and Local Officials attended the Grand Opening Ribbon Cutting Celebration of The Somers Pointe and Somers National Golf Club on Tuesday, April 9. The Somers Chamber of Commerce in conjunction with Somers Town Supervisor Rick Morrissey were in attendance and hosted the ribbon cutting ceremony, welcoming new owner & President of The Somers Pointe, Perry DiNapoli, Family and Staff to the property and community. DiNapoli's Partners of Somers National Golf Club, Quintin Lew and Scott Rogener were also in attendance.
After the ribbon was cut, guests enjoyed a sampling of tasty items from the new menu prepared by new Chef Tom Costello, former Owner and Chef of Thyme Restaurant in Yorktown Heights. The team then raffled off tickets to win a Foursome with Dinner to Somers National Golf Club. The proceeds of $750 were donated to Kennedy Catholic High School for a scholarship fund.
One of the main focuses of the property will be to bring Heritage Hills and surrounding northern Westchester communities together, by offering them a place to connect & network, have a quick bite, host a fundraising event, or play a couple of rounds on the golf course.
"We're very excited to bring our 30 years of experience to this special location. We look forward to working with the community to recreate the magic of what was once here in Heritage Hills." Say's DiNapoli.
About The Somers Pointe, Somers National Golf Club, and The DiNapoli Family
The banquet space at The Somers Pointe is perfect for intimate gatherings, or large galas of up to 140 guests. The property also boasts a full service restaurant called The Grille with a pub style bar and wonderful patio overlooking the green.
The venue is now booking weddings, showers, corporate events, fundraisers, community events, family celebrations and more for 2019 and 2020. Contact us to learn about hosting your next event with us. Call 914.276.1000 to speak to our team, or email us at events@thesomerspointe.com. Visit our Facebook page at www.facebook.com/TheSomersPointe.
Somers National Golf Club is an 18-hole challenging golf course situated on one of the area's highest points, the newly refurbished golf course was designed by Geoffrey Cornish to test the most accomplished golfers while encouraging newcomers. Somers National is now offering memberships. New Partners Quintin Lew and Scott Rogener were also in attendance.
The Westchester based DiNapoli Family, are forerunners in the hospitality industry, with ownership of The Briarcliff Manor in Briarcliff Manor, The Olde Stone Mill, Angelina's Ristorante in Tuckahoe, and Antonees Gourmet Family. With the growth of their brand, to the new establishments The Somers Pointe, The Grille at Somers Pointe, and Somers National Golf Club, they look to bring their family-based values, exceptional service, personal touches and gourmet food to the new location.
---
---